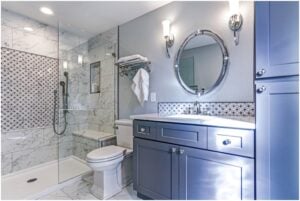 Maybe you haven't noticed, but your bathroom has been trying to get your attention. It's been dropping hints for months now, making itself seem harder and harder for you to clean and appearing smaller and smaller every time you walk into it. You may have shrugged off the hints, but your bathroom won't stop. It is begging you for frameless shower doors. With the ability to completely customize your frameless glass shower doors; selecting thickness, sliders, and hardware, you will not only be able to upgrade your bathroom but create the dream bathroom you've always wanted.
You and your bathroom will breathe a sigh of relief as soon as the frameless glass shower installation is finished, taking away the rusty, aluminum frame and molding corners of your shower, leaving only easy-to-clean frameless shower doors. Every time you walk into your bathroom, you'll feel it expanding with pride as your new frameless shower door panels open up the space and your beautiful tile designs shine through. Thanks to you finally getting the hint, you and your bathroom will be happy you made the right choice by going to Giant Glass & Mirror and getting new frameless shower doors.
THE BENEFITS OF FRAMELESS SHOWER DOORS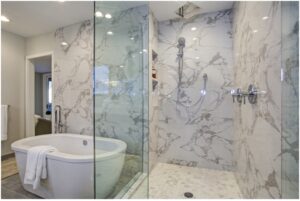 Frameless shower doors have always been a popular choice among homeowners and commercial businesses alike. Having frameless glass shower doors opens up your space, making it feel larger and look cleaner. They provide a modern look but can work in traditional homes as well as more contemporary ones. Additionally, they are easier to clean than framed shower doors and prevent long-term corrosion and damage that tend to come with framed shower doors by minimizing mold and mildew buildup.
Through Giant Glass & Mirror, you can customize your frameless shower doors by selecting everything from the glass thickness to the hardware finishes. There are a number of options to choose from in color, design, and style. The benefit to completely customizable shower doors is that you can have your glass panels cut to exactness and coordinate your finish selections with your other bathroom décor. We offer a variety of hardware options such as oil rubbed bronze, antique brushed copper, brushed nickel, chrome, brass, gold, and satin. Another benefit to frameless shower doors is that they eliminate the need for a step to enter the shower, which is beneficial if you are renovating or building a bathroom for an aging family member.
HYDROSLIDE FRAMELESS SHOWER DOOR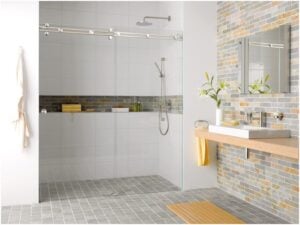 Perhaps you want frameless glass shower doors that can slide open and closed, rather than a fixed glass panel. That's where hydroslide frameless sliding shower doors come in. These doors make it possible to slide your glass shower panels from side to side in a quiet and effortless manner. Hydroslide doors come in either 90 or 180 degrees angles to allow for several types of designs.
Hydroslide doors are an excellent option for small bathrooms or other tight spaces in your home. They look modern and clean because of their lightweight and transparent qualities. In order to achieve a seamless look, hydroslide shower doors use glass panels mounted with discreet hardware. Like all frameless glass shower panels, hydroslide doors highlight shower fixtures and beautiful tile designs. Frameless shower doors, sliding or not, will add a beautiful and airy feel to your bathroom. Next time you use your shower, take some time to notice how you feel in the space. Your bathroom may be trying to tell you something.