Small buildings can feel cramped and crowded if not designed right. Whether it's a commercial building or a residential home, space planning is extremely important to get the full potential out of a building. One easy way to make a small area feel bigger is with glass partition walls. This solution allows for defined spaces without disrupting the openness of a room. Glass partitions are popular for commercial locations such as offices, restaurants, hotels, and spas. Homeowners often use them in sunrooms, bathrooms, closets, and as a divider in living rooms.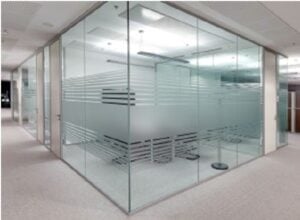 Glass partition walls add a fresh and modern look to any space and are long-lasting and easy to maintain and clean. Many people like to add a glass partition wall design to their home or commercial spaces to divide rooms or allow visibility while still providing privacy. When you work with Giant Glass & Mirror, you can even customize your glass partition wall and create a design that is completely your own. Options include frosted glass or ultra-clear panels, which you can have cut any way you want to make sure it fits your space perfectly. Any room or building that uses glass partition detail in their design will feel more open and welcoming.
OFFICE BUILDINGS
Glass partition walls for office buildings can set up company expectations for openness and honesty, which may improve communication between employers and employees. Being able to see someone inside their office makes it difficult for anything secretive or unethical to occur. It also makes it less intimidating for employees to approach their superiors if they can see them inside their office and their employers can, in turn, see them approaching. Creating a sense of community can occur as those who are outside of the glass doors can still see in and feel like a part of what is going on. This boosts employee morale and trust.Glass partition walls in office buildings also offer a modern design that will always look professional and be easy to maintain.
SPAS
A beautiful addition to any space, glass partition walls can add extra beauty and style to a spa. Whether in a commercial space or your private residence, a spa should feel open and airy and be a place where you can breathe deeply. Glass partition walls create just the right amount of openness while still providing a sense of safety and peacefulness. If you need a way to divide a space without adding a heavy wall or bulky doors, a glass partition wall is an ideal solution.
IN THE HOME

Glass partition walls for home living can be a great addition. Some homes have living spaces that tend to run together with no beginning or end. If your home has a big, open area, you may want to close off certain spaces to allow for more privacy, or to create a cozy atmosphere. Glass partition walls allow you to section off areas while maintaining an open feel. You can also customize the glass partition wall design so that it is unique to your style and space. This is an excellent opportunity to add a little detail and make the partition feel like it was always a part of your home. There is no reason it can't be both functional and beautiful.
SUNROOMS
If you're looking to add a sunroom to your home, glass on the exterior walls will let a lot of light in. Consider also including an interior glass partition design in your sunroom. This will allow light to travel into your home and make things feel warmer and brighter. A sunroom is a great place to feel like you are outdoors without having to worry about bug spray or neighbors.
GLASS SHOWER WALLS
Using a glass partition wall in the bathroom is a great idea instead of a framed shower door or shower curtain. This will add a sense of openness to the room and greatly minimize the buildup of mold and mildew on shower curtains and bulky frames. Though the glass partition wall cost may be more of an initial investment, it will save you money in the long run with it's easy-to-clean, long-lasting design.