The bathrooms in your home should be a place of relaxation and peace. You NEED the help of Giant Glass & Mirror if your bathroom makes you say "ICK" instead of "AHH"! Your ensuite should include a well-appointed, spa-like bathroom that compliments your luxurious master bedroom.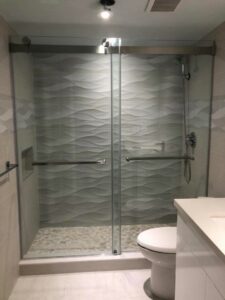 Your children need a safe and easy to clean bathroom. And of course, you want your guests to feel relaxed and at home when they use your facilities as well.
Hydroslide shower enclosures, frameless doors, and glass tub enclosures can turn your bathroom into space where you can be energized in the morning and prepare to take on the day. A spa-like bathroom is a relaxing retreat after a long and stressful day.
The design professionals at Giant Glass & Mirror will help you design the perfect space for you! We will guide you through the entire process, from design through fabrication, and installation and because we are a full-service glass company, we can get your custom-made product installed FAST!
However, our service doesn't stop there. We provide all of our customers with a 100% satisfaction guarantee, and we offer repair services as well.
TIPS FOR PLANNING YOUR BATHROOM REMODEL.
Remodeling an outdated bathroom can seem like an overwhelming task, but it doesn't have to be! Following a few simple guidelines will streamline the process for you and perhaps even make it an enjoyable experience!
Assess Your Needs. Are you hoping to create a luxurious retreat in your ensuite or do you need to make your bathroom more accessible to accommodate an aging family member? Need assessment is paramount in every renovation project.
Set Goals. Once you assess your needs, you should set clear goals which include your budget and timeline.
Create a Budget. Be realistic. Weigh what you want with what you need and finally with what you can afford — the average bathroom reno costs between $10,000 and $15,000. Once you start adding high-end fixtures, the price will go up considerably.
Design and Plan. Are you able to utilize any of your existing fixtures? Consider the placement of any windows and plumbing. Work with your contractor to ensure that what you want aligns with what is affordable and possible.
Select Materials. This is the fun part for many homeowners! Choosing the perfect tub, shower doors, tile, grout, flooring, even the toilet can be exciting!
Prepare your Home for Construction. Talk with your contractor about the timeline and plan for the inconvenience of temporarily losing one bathroom. Block off as much of the area as possible to keep dust, debris, and noise under control.
Be Patient. Remodeling can be frustrating as unforeseen problems often arise. Build some extra days into your timeline for just such occurrences. Remember, it will all be worth it when you are relaxing in your new space!
GET HYDROSLIDE DOORS INSTALLED FAST.
Giant Glass & Mirror is a full-service glass company which means that we design, fabricate, and install our products personally. Our in-house fabrication allows us to provide lightning fast service for our customers.
We take pride in our speed! Once you settle on a design for your shower or tub, leave the rest to us!
Catherine Roberts gave us a five-star review and said "This company went above and beyond for us. From estimate to install was only five days and every aspect was perfect. Joseph and his staff are true professionals."
We will work with your contractor to ensure precise measurements and coordinate with them when it is time for installation. You can be sure that if your project gets held up, it will not be because of us!
How are Hydroslide Doors Installed?
When we install hydroslide doors, we use precise measuring techniques including lasers to guarantee a perfect fit and our skilled team of installers only use the highest quality hardware of your choosing to hang your shower or tub doors.
We have a large selection of quality hardware in a variety of finishes that are sure to enhance the entire project.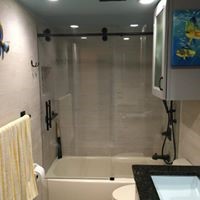 One of the reasons glass doors are popular in the bathroom is because they basically disappear and allow the tile or stonework to take center stage in the space.
Using just the right hardware can help make the doors nearly invisible. We even offer frameless shower doors which appear to float seamlessly in place.
When you have your doors installed with care by our professional experts, the fit will be precise, the look will be seamless, and the project will be painless.
Here at Giant Glass & Mirror we are fully licensed and insured guaranteeing you can buy from us with confidence.  We are a local company here in Dania Beach that has been serving Miami, Fort Lauderdale, and the surrounding areas of South Florida for over 20 years.
We set our company apart from the rest with our "full-service" policy and promise to guide you through each step of this process with guaranteed satisfaction. We would love to hear from you to provide you with a FREE quote!