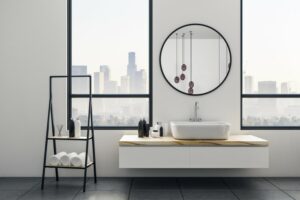 From a design point of view, mirrors can do wonders. Every entry should have a mirror as people like to check how they look when both entering and exiting a home. Small rooms need mirrors to make them feel more spacious. No matter what your style is, mirrors can make a room feel more glam, farmhouse, industrial, or midcentury, just from the look of the frame. Mirrors in bathrooms are a necessity, and in bedrooms, they can create a great space for getting dressed and checking your outfit for the day. The truth is, all designers and homeowners love mirrors because they are so versatile and helpful. You can't go wrong by adding a mirror to your home, but can you have too many mirrors? Is there anything bad about putting a mirror in every room?
MIRRORS IN EVERY ROOM
Most interiors designers agree that you can use a mirror in every room, as long as it is serving a purpose. Having more than one mirror in any room could start to feel like too much. You don't want to make your family or guests uncomfortable by surrounding them with mirrors on every side. The obvious and most functional places for mirrors are bathroom and vanity mirrors. The next most common is the entryway. Lastly, bedrooms, dining rooms, and living rooms. The great thing about mirrors is that they are both functional and beautiful. They can be works of art in and of themselves, offering light, texture, and dimension to any room. At Giant Glass & Mirror, we offer a wide variety of customizable mirrors in any shape, size, and style you want.
CUSTOM BATHROOM MIRRORS
Customizing your bathroom mirror automatically makes your bathroom feel more like your own. You can decide how big, what shape, frame style, and more for your bathroom or vanity mirror. However, you should always make sure that your mirror doesn't exceed the size of your vanity. You want to ensure it is proportionate to your vanity and wall. Place the middle of your mirror at eye level or as close to eye level as possible when hanging it. At Giant Glass & Mirror, we can design, customize, and create your bathroom mirror as well as make sure it is installed correctly.
ENTRYWAY MIRRORS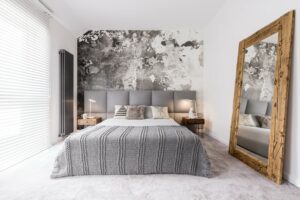 Having a wall mirror in your entryway is a smart idea for a lot of reasons. You and your guests can check how you look as you go in and out of the home, your entryway will appear bigger, and your mirror will reflect light from front door windows into the rest of the entry. Additionally, it will add a beautiful decorative aspect to the room, setting the tone and style for the rest of your home. Entryway mirrors should make a statement with a detailed or striking frame. This is a place where you can have some fun by choosing a funky shape, bold color, or multiple mirrors rather than just one. Customize the look and style you want with our professionals at Giant Glass & Mirror.
BEDROOM MIRRORS
Decorative wall mirrors are great to have in a bedroom. They make it feel better, add style and texture, and provide a functional area for you to see a full-length reflection of yourself.  Make sure that the kind of bedroom mirror you have reflects your style and adds to the atmosphere you want to create. Your master bedroom should feel like a sanctuary. It should be a place to relax and unwind. We can help you design a mirror that flows with the rest of your home and makes you look forward to returning to your bedroom each night. Prop large, full-length mirrors up against the wall for an elegant, leaning look, or hang them up if you have high ceilings for a regal, formal design. For a more modern look, choose beveled edges and sleek lines.
Whether you decide to put a mirror in every room of your home or not, the idea should be to create a home that you love. Not every room will be big or bright or need artwork. That's where mirrors come in. You can't go wrong if your number of mirrors is both functional and beautiful. With over 20 years of experience in the glass and mirror industry, Giant Glass & Mirror offers our customers the highest quality products for affordable prices. We can help you design mirrors for any room and as many rooms as you want. Contact us today for a free quote on a custom mirror design for your home.