While mirrors are functional, they also bring light and style into any space. Using custom mirrors as design elements throughout your home is an excellent way to showcase your style and combine form with function. Mirrors can bring light into a dark corner, reflect a lovely piece of furniture, or add the appearance of more space in a small room. Custom beveled mirrors, decorative wall mirrors, functional vanity mirrors, and large floor mirrors are some of the options you have when you work with Giant Glass and Mirror.
CUSTOM BEVELED MIRRORS TRANSFORM A ROOM INSTANTLY
Traditional straight edge mirrors are beautiful, however beveled mirrors are a cut above for a few reasons. Some beveled mirrors even become family heirlooms which are passed down for generations.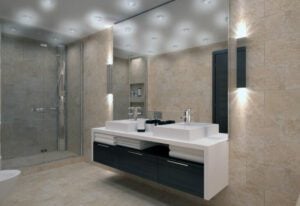 Beveled edge mirrors reflect more light than 

straight

 cut mirrors. 

The angle at which

 

the sides 

are cut

 

gather

s

 light

 from all four 

sides

 rather than just the 

front

 

and r

eflect

s

 out from all sides as well

.

A beveled edge mirror 

achieve

s

 a 

more 

sophisticated 

and classy

 

look

.

Many antique mirrors are beveled, 

which

 

is another 

reason why

 they 

are considered

 so lovely

, as 

they harken back to a time gone by

.
BRIGHTEN UP A DULL AREA WITH A DECORATIVE WALL MIRROR
Mirrors are functional first and foremost; however, they serve an important purpose when it comes to style as well. Follow these tips to ensure your style shines when you use a decorative mirror.
Location, location, location! The entryway is the

 most common place for a mirror outside of the bathroom.

 It is welcoming for your guests and gives you one last glance to get that spinach out of your teeth before heading out the door. 

However, m

irrors

 can

 work well in every area of your home

.

 When placed in 

an optimum

 location, 

a 

well

–

chosen

 mirror can have

 a 

significant

 

impact on the feel of the whole room. 

Mirrors are heavy. To ensure that you

r 

mirror 

doesn't

 get you seven years of bad luck, use sturdy D hooks and hang them on a stud behind the wall.

Hang your mirror opposite from something you are sure you want 

to 

be 

reflected

.

 Think about

 

what you want to amplify? 

Do you want

 the lovely view from

 a window or the pile of clutter on your 

unorganized desk

?
SAY HELLO TO YOUR BEAUTIFUL FACE 
AND
 YOUR BEAUTIFUL VANITY IN THE BATHROOM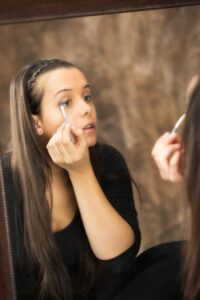 You may not spend that much time in the bathroom, but it is still important to have a comfortable, well-lit area to get ready for your day. A custom vanity mirror can provide the stylish look to your bathroom and some say we even look better in a mirror. Here are a few different ways to use vanity mirrors in your bathroom:
Instead of one large mirror, consider hanging two smaller mirrors, 

exactly the same

, next to one another. 

This give

s

 you almost the same amount of

 mirror 

space

 while adding a touch of style to the area.

Be unique! Break out of the square box and try something bold, hang a statement mirror that 

really

 speaks to you.

Considering adding a custom frame to your vanity mirror. Giant Glass and Mirror has many options to choose 

from

. Fr

ameless mirrors feel a bit more 

contemporary, adding a 

frame

 can 

really

 warm up

 

the space

.
Make Your Bedroom Feel Luxurious With a Large Floor Mirror
It used to be considered a decorating no-no to leave a piece of art or a mirror sitting on the floor. People thought it made the room look as if it wasn't put together all the way. Now, many designers use large decorative mirrors as focal points in their designs, especially in the master bedroom. However, there are a few things to keep in mind if you plan to use a floor mirror.
Secure the mirror to the wall in the same way you would hang it. Some floor mirrors come with a stand

;

 some

 will not.

Using floor mirrors is 

a great design

 decision for renters

 as it 

allows

 

you

 to

 create a beautiful, stylish space withou

t risking your security deposit!

Skip the boring '

full

–

length

 mirror" hung on the back of a 

door, and

 use a large floor mirror! Having a floor mirror placed at the right angle will give you the 

full

–

length

 view you need in a much more 

grown

–

up

 way!
As with any home project, it is important to follow manufactures direction and install your new mirror safely and properly. Mirrors are an essential piece to every home décor. They are needed in certain areas like the bathroom and by the front door. They can make a room feel larger and brighter. Mirrors also provide a unique way of decorating your home.
With so many design options for you to choose from at Giant Glass and Mirror, think beyond the bathroom! Contact us for a quote today!