Yachts come in all shapes and sizes, but they have one thing in common: luxury. You rarely see the elegant beauty of a yacht anywhere other than on the water's surface, and that's just the exterior. The interior of your yacht should look how you feel – relaxed, beautiful, and adventurous. It should be your home away from home with an upgrade because after all, you are on vacation. If you own a yacht or a large boat or know someone who does, it's important to make the space feel meaningful and unique through the way you decorate it. Making it a place of your own will help you look forward to it, use it more often, and be excited to introduce guests to the lap of luxury. Here are some of the reasons for owning a yacht, tips for decorating it, and how to get custom interior glass for your yacht.
WHY YOU SHOULD OWN A YACHT
Many people don't realize this, but boating can help lengthen your life-span. In today's busy world where a full schedule is often met with admiration, it's easy to forget about the strengthening and rejuvenating powers of relaxation. Owning a boat of some kind forces you to take time off, relax on the water, and gain that much-needed perspective of what's most important in life. That is one of the best ways to ensure you get the most out of your long life. Every time you go aboard your yacht; you are embarking on an adventure. Getting out of your comfort zone, exploring new places, and doing it all while spending precious time with your family should be reason enough to buy a yacht. Once you've decked it out with a beautiful interior design, you and your friends and family will never want to leave.
HOW TO DECORATE YOUR YACHT
Consider first the kind of look and feel you are going for. Maybe you own a classic yacht that begs for vintage décor or perhaps you want your yacht to feel like an upscale hotel with high-quality furnishings and custom interior mirrors. For yachts, you can truly do anything you want. One of the best ways to make your yacht feel like it's grander and more spacious than it actually is, is to add luxury glass products. Our professional team at Giant Glass & Mirror can design, fabricate, and install a sliding glass door for your yacht. Additionally, if there's anything you need on your yacht in the way of glass or mirrors, we can make it. Glass railings for yachts are a great way to add a sparkling look to either the exterior or interior of your boat. Take time in each room and consider how you can make it feel larger and more beautiful. Bathrooms are also a great area to invest money because, after a day on the sea, most people just want to relax and get clean. Consider adding sleek, frameless shower doors to your yacht bathrooms. Once you've got a beautiful base, you can add the following finishing touches:
Mood lighting
Throw pillows
Floor rugs
Decorative baskets
Meaningful artwork
Greenery
GIANT GLASS & MIRROR YACHT PRODUCTS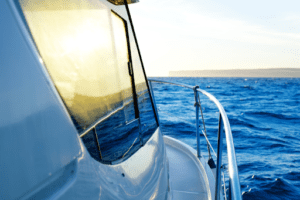 While we don't just work with yachts, we do love any opportunity to do so. There is something so beautiful about a grand yacht sailing into the sunset with the sun reflecting off the glass doors and windows. If you have a vision for your yacht or home, we can help you make it come true with our luxury glass products for yachts that will have your space feeling more like your luxurious home away from home. These products include:
Frameless showers: Without a frame, your shower will feel much more open. The glass doors and walls with frameless shower doors are practically invisible, making passengers feel much less cramped than they might otherwise be on a boat.
Custom interior mirrors and glass: Your yacht walls shouldn't be empty. Fill your space with light-reflecting mirrors cut to the perfect size for your wall. Our specialty mirrors, glass partitions, glass shelves, and more will make your yacht feel large and impressive.
Laminated glass for interior or exterior: Seaspray, ocean air, storms, and the regular rocking of water can create unsightly wear and tear over time on your yacht. Laminated safety glass will protect you and your boat from getting wet and having to clean up after a big storm. It will also keep you safe, with a special interlayer that holds the glass together in case something causes it to shatter.
Glass for railings: This is a beautiful way to discourage your friends and family from jumping ship and also help them feel a bit safer when looking out to enjoy the ocean views.
With over 20 years of experience and our 100% customer satisfaction guarantee, we are positive you won't be disappointed with the work we offer at Giant Glass & Mirror. Call us today to discover how we can help bring your glass and mirror dreams to life with the highest quality glass and mirror products on the market.