Glass shelves can be a great storage solution for your home, or they can be a beautiful way to display some of your favorite items. People use glass shelves for display cases, kitchen cabinets, bars, and more. Additionally, you can use glass shelves to add stylish storage space in your bathroom. Learn more about why you should use glass shelves in your bathroom below, and reach out to Giant Glass & Mirror if you would like to get started customizing glass shelves for your home today.
WHY USE GLASS SHELVES IN THE BATHROOM?
Glass shelves can be used anywhere in your home, but they may be a good choice for your bathroom for the following reasons:
Added Storage – Most people don't have the storage they need in the bathroom. Because the bathroom is where they spend their time getting ready for the day, they need space to store hair products, makeup, and other toiletries. Unfortunately, many bathrooms are not very big to begin with and are severely lacking in storage space. That is why adding glass shelves to your bathroom could be an excellent idea. You will get the added storage space that you need, and you can customize the shelves to perfectly fit in your space.
Customizable – Another reason that glass shelves are great is they are entirely customizable. If you need a specific size or style of shelf to fit in your bathroom, you can customize your glass shelves to meet those needs. For example, if you don't have a lot of room on your walls, you can get glass shelves that sit in the corner of two walls. This will give you more storage space, while not taking up too much wall space.
Stylish – One other reason to use glass shelves in the bathroom is that it can be a stylish option. Glass shelves look clean, modern, and high-end. They can even go well with your frameless glass shower door.
There are many reasons to add glass shelves to your bathroom. The added storage space added style, and customization are just three reasons why glass shelves can be a great asset to your bathroom space.
Glass shelves work really well in a bathroom or powder room, but you can also use them in other places in your home. Glass shelves can be used in the living room to display memorabilia or photos. They work great to present these items because they have a reflective nature that helps them really stand out.  These shelves can also be used in the kitchen to hold dishes, utensils, and other kitchen gear. Another great use for glass shelves is in a display case or entertainment center. A glass shelf can make an area lighter and brighter because of its transparent nature which allows light to pass through.
Glass shelves are great in the bathroom and the home because you can customize them to your exact needs. Learn more about customizing glass shelves below.
Customizing Glass Shelves for Your Bathroom
You can add elegant storage to your bathroom with custom glass shelves from Giant Glass & Mirror. We offer glass shelves in various sizes, and we make them easy to customize. You can choose from shelves that are 3/8" to 3/4″ depending on your wants and needs. If you have questions, our expert staff can help you customize the shelves for your space. We also offer custom floating glass shelves if that style appeals to you. Contact us if you would like to learn more about how you can create custom glass shelves with Giant Glass & Mirror.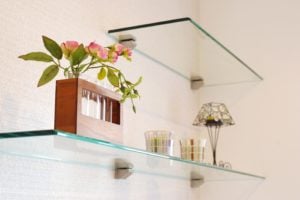 However, at Giant Glass & Mirror we don't just create glass shelves. We specialize in a variety of glass products for your home. For example, if you upgrade your bathroom with glass shelves, you might also want a frameless glass shower door or frameless glass tub enclosure for your home. Giant Glass & Mirror can help you with the design, fabrication, and installation of a frameless glass shower door. We also craft products like glass tabletops, mirrors, and more.
You can reach out to us next time you are in need of glass shelves, glass walls, or glass doors for your home or office. Go to giantglassandmirror.com to learn more about our products and services. At Giant Glass & Mirror, our goal is for you to be happy with the products and services you receive from us. We strive for customer satisfaction in everything we do because we know you are the most important part of our business. Let us know how we can help!