When you think of storage, and all the things you need to organize and put away, glass shelves may not be the first thing to come to mind. However, glass shelves are the perfect solution for many storage problems because of their ability to create space for items without taking up a lot of visual or physical space. They add style and elegance to any room and can look great with every type of decor. You can customize them to fit your exact design needs and to match your unique design style. Are you convinced yet? If not, here are the five main ways glass shelves will solve your storage problems.
1. GLASS SHELVES CREATE STORAGE WITHOUT TAKING UP SPACE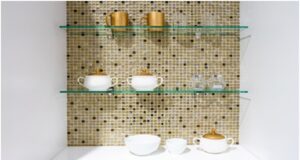 One of the main advantages to glass shelves is they create the illusion of floating objects. Because they are both thin and transparent, floating glass shelves create storage without taking up visual space. That's why they are perfect for smaller rooms or areas where you may feel like adding any kind of storage will just make it feel more cluttered. Try glass shelves inside your kitchen cabinets and notice how they visually open up the space. Glass shelves in bars allow bartenders to store drinks stylishly while being able to see inventory from several different angles. The same technique in your kitchen could help you see more of what you actually have on hand.
2. GLASS SHELVES ARE BOTH FUNCTIONAL AND BEAUTIFUL
Glass shelves add elegance to any residential or commercial building. On their own, they can be a beautiful statement piece. Add displays of photos, collectibles, vases, or products to make them really stand out. When you put glass shelves next to a dark paint or dark wood, they can brighten up the space by allowing light to pass through. This will help the area feel richer, cleaner, and more elegant. For commercial spaces, glass shelves work beautifully as a way to display products without detracting from the products themselves. Customers can also see products from several different angles, allowing them to get the full effect.
3. GLASS SHELVES DON'T DETRACT FROM BACKGROUND DESIGNS
Why cover up your gorgeous wallpaper or tile designs with clunky shelves or cabinets? Glass shelves allow for storage in front of interesting walls without being too distracting. Rather than ruminating over what color shelves will match your wall but not be too matchy-matchy, opt for the simpler and better-looking solution of glass shelves. They go with everything and still somehow add just a touch of style to any pre-existing space.
4. GLASS SHELVES GO WITH EVERYTHING
Glass shelves aren't only for the kitchen and living area. Because they are clear, they go with everything and match any style of home décor. They look beautiful in offices, bathrooms, bedrooms, inside cabinets, and anywhere else in the home where you want to create extra storage in a beautiful and functional way. You can either put them somewhere discreet or make them the focal point of your room without having to worry if they "go" with everything else.
5. GLASS SHELVES ARE CUSTOMIZABLE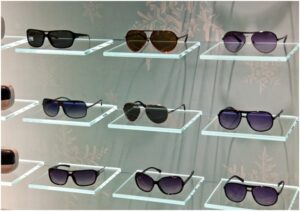 If you have a unique spot where you need storage, but it seems too difficult or complicated, consider customizing glass shelves that would fit perfectly in that space. At Giant Glass & Mirror, you can create custom glass shelves to portray your personal style. We offer custom tempered glass shelves in 3/8" to 3/4″ thickness and will help you find the best size of glass shelves for your specific home. With our precise measuring and expertise, you can rest assured we will do the job correctly and for a fair price.
Custom tempered glass shelves are the obvious solution for any storage problem. They look great, go with everything, are functional and stylish at the same time, and can be designed to exactly the dimensions and style you want. Next time you're wondering where to put all your travel souvenirs or if you find yourself rummaging through your kitchen cabinets for the 100th time, consider installing glass shelves to simplify and beautify your life.