If you've ever hesitated to install glass shelves because you were worried about their durability or breakability, you don't have to wait any longer with Giant Glass & Mirror. We use tempered glass, which is about four times stronger than regular, or annealed, glass. Tempered glass doesn't shatter. If it breaks, it breaks into little, relatively harmless fractions. Tempered glass is almost everywhere we look, from windshields and microwaves to shower doors and shelves. Once you read about the glass tempering process and how it can add to the safety of your home, you won't be worried about adding beautiful glass shelves to your next home décor project.
TEMPERING PROCESS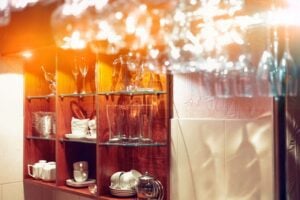 Before doing anything to the glass, the manufacturer must cut it to size. If they don't do this step first and try to change it after the heat treatment process, the glass loses some of its strength or won't function at all. Once the desired size is cut out, workers check the glass for any flaws that could make the glass break during tempering. They also use sandpaper to smooth any sharp edges off the glass and wash the surface. The heat treatment consists of putting the glass through a tempering oven, which heats the glass to 620 degrees Celsius. Right after the heat treatment, the glass is "quenched," a high-pressure cooling process that only lasts a few seconds. Quenching cools the glass off with air blasts from all directions.
Mark Ford, fabrication development manager at AFG Industries, Inc., says: "As the center of the glass cools, it tries to pull back from the outer surfaces. As a result, the center remains in tension, and the outer surfaces go into compression, which gives tempered glass its strength."
Regular glass breaks at 6,000 psi, or pounds per square inch while tempered glass can withstand up to 24,000 psi.
CUSTOM GLASS SHELVES
Now you know that glass shelves are perfectly safe for your home as long as you use tempered glass. At Giant Glass & Mirror, we use only the highest quality tempered glass products and are confident that our custom glass shelves will stand the test of time and weight. The process of tempering not only strengthens the glass but perfects it as well. Quality control has to be strict in order for the tempering to be successful. Custom floating glass shelves that can hold heavy items as well as reflect light and create more visual space in your home are one of our favorite things to provide our customers. If you don't want the floating variety, try using glass shelves for cabinets. This is a great way to create a spacious feeling in a small room or inside your cabinets, so you can see more clearly what you have stocked away. Glass shelves for bar units either in your home or commercial space are also a great way to give any space an updated, luxurious feel. Strong and functional, custom tempered glass shelves can truly add beauty and light to any space.
How to Customize Your Glass Shelves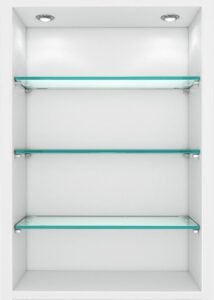 The word "custom" might intimidate some homeowners who don't have a lot of time or a design in mind for their glass shelves. If you feel like you don't know how to start or what style would look the best in your home, Giant Glass & Mirror can help. Our team of experienced and talented designers will work with you to assess your needs and style. We make sure to measure and install with exactness so that your glass shelves fit your space perfectly. We offer a variety of sizes as well as the option of 3/8" or ¾" thick glass, depending on your personal preference, and can add glass shelves to any room of your home, including bathroom or kitchen cabinets, bar area, living or office space, and more. With over 20 years of experience in the glass and mirror industry, we are confident that you will love your glass shelves, so confident that we offer a satisfaction guarantee which gives our customers peace of mind. Our number one goal is your satisfaction.
If you feel stuck in a rut when it comes to the design of your home, consider using tempered glass shelves. You may be surprised by not only how strong glass shelves are, but how beautiful and functional they can be. Add light, space, dimension, and storage with your custom glass shelves from Giant Glass & Mirror. Contact us today to find out more about pricing and our design services.