Humans tend to complicate life. We tell ourselves we need things we don't, and we pressure ourselves to be perfect when we know that it's impossible. When we take the time to step back and remove some of the clutter in our lives, that's when the peace comes in, and anxiety starts to dissolve. Little things like setting up routines and systems in our lives can save us time, worry, and stress. The key to a happy life is a simple one. One easy and quick way to bring more simplicity into your life is with frameless tub enclosures. It may sound crazy, but that shower curtain you've had forever could be causing you stress.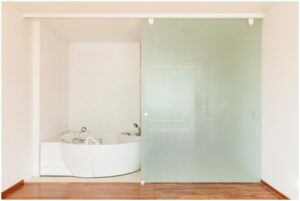 SIMPLIFY YOUR LIFE WITH FRAMELESS TUB ENCLOSURES
Shower curtains get in the way, drip water on the floor, make your bathroom feel cramped, and cover up a beautifully designed bathtub. However, with frameless tub enclosures, you don't have to worry about keeping a shower curtain clean or ending up with a puddle on the floor after every bath. Not only do glass bathtub doors simplify the bathing experience and your life in general, but they also open up your bathroom, making it feel larger and allowing an unobstructed view of your beautiful shower, tub fixtures, and tile designs. Frameless tub enclosures are also easier to maintain than shower curtains with no mold buildup or rust from shower hardware or curtain fabric.
SIMPLE CLEANING TIPS
If your frameless glass tub doors do get dirty, use one of these easy glass door cleaning methods:
Eliminate build-up with heated distilled vinegar mixed with an equal portion of a gentle dish detergent like Dawn. Spray glass and wipe with a non-scratch sponge, foam cleaning pad, or towel. Don't use vinegar on stone tile.
Cut a lemon in half, and dip half of the lemon in baking soda. This will create a foam. Rub foam on both sides of the glass door and rinse.
Use a squeegee to keep hard water deposits from building up. Make your own cleaner by mixing ½ cup vinegar, 1 cup water, and a little bit of dish soap. Use this mixture to spray your glass door down after squeegeeing.
Leave the door open after you shower or bathe to help air it out and keep it dry.
FRAMELESS TUB ENCLOSURE OPTIONS
At Giant Glass & Mirror, you can customize your bathtub door panel however you want. With new glass tempering technology, it has become easier to install customized glass tub doors than ever before. We have several different glass types, thickness, and style options to provide you with flexibility to match any décor and make your new glass enclosure the centerpiece of the bathroom. Additionally, with a wide variety of finishes available, we can make sure that any hardware attached to your frameless hinged tub door coordinates perfectly with other finishes in your bathroom.
We custom design, cut, and install your new tub enclosure creating beautifully finished frameless, semi-frameless, or framed products. Your choices for an enclosure include:
Trackless tub doors
A half-glass shower door for the bathtub
A frameless hinged tub door
A frameless pivot tub door
A swing door
A by-pass sliding door unit
A hydroslide tub door
Now that you know your options you can bring more peace to your life by making your bathroom routine simpler and more enjoyable with a frameless tub enclosure.