When it comes to a shower enclosure, you have a lot of different options to choose from. You can decide to use a shower curtain, a framed shower door, or a frameless shower door. The decision you make depends on your needs and your style. Below, we are going to compare frameless shower doors and framed shower doors so that you can determine which option is best for you and your home.
Framed shower doors and frameless shower doors have some significant differences when it comes to style, cost, maintenance, and more. Check out the differences below.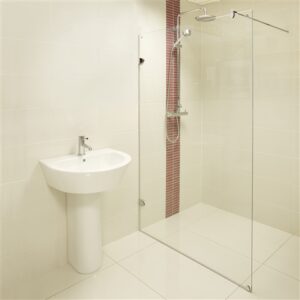 Style – The biggest difference between the style of framed shower doors and frameless shower doors is the configuration. With a framed shower door, you don't have as many options. Most framed shower doors are sliding doors on a track and this type of door usually only covers one wall of the shower. However, frameless shower doors, give you have a lot of possibilities for customization. Frameless doors allow you to create an entire glass surround. Additionally,you have the possibility of using hinged doors or pivot doors. Frameless glass shower doors also look more modern and high-end than a framed shower door.
Space – As a general rule, framed shower doors take up less space than frameless shower doors. This is because framed shower doors are often sliding doors that stay on a specific track when opened. With frameless shower doors, you might have a hinged or pivot door that swings out into the room. You should consider the size of your bathroom before you choose a shower door option.
Maintenance – When it comes to cleanliness and maintaining shower doors, there are some things to note about framed shower doors. The track and frame of a framed shower door can collect water, causing the metal to corrode. The lining of the frame can also collect mold and mildew easily. These two downfalls of framed shower doors can make them harder to clean and maintain. On the other hand,it is easy to maintain and clean a frameless shower door with a few tips. It is also usually easier to fix or replace a part in a frameless door than it is a framed door.
Cost – The cost of a shower door depends on the size of the door and whether or not it has to be customized. However, as a general rule, a framed shower door will be less expensive than a frameless shower door. A frameless shower door requires much thicker glass, and high-quality clips for the glass to attach to the wall.
Installation – Unless you have a lot of experience, it is best if a professional handles the installation of your shower door, whether it is framed or frameless. The installation of these two doors is slightly different because they are put together differently. It will probably take longer to install a frameless glass shower door because this door is heavier and requires precision to be correctly installed. A framed door is slightly easier to install because the door is less cumbersome. Even though the glass for a framed glass shower door is much thinner, someone will still have to install the frame properly.
As you can see both framed shower doors and frameless shower enclosures have their advantages. Framed shower doors are usually less expensive than frameless shower doors, but frameless doors have the benefit of better customization and easier maintenance. Many people choose to use frameless glass shower doors in their bathroom because they give a high-end and modern look to the bathroom. The type of door you select for your home depends on your needs and desires.
FRAMELESS GLASS SHOWER DOORS – YOUR QUESTIONS ANSWERED
We understand that even with all the advantages explained, you will still have questions surrounding a frameless shower door installation. All your questions and concerns are valid, after all, you need to be sure that you're making the best investment for your home.
Get answers to the three most commonly asked questions so that you can make an informed decision.
1. DO FRAMELESS SHOWER DOORS LEAK?
This is undoubtedly the biggest question on your mind. When looking at a frameless enclosure, it's impossible not to wonder: do frameless shower doors leak? The answer here is yes and no… depending on where you get your doors from. DIY jobs with mass produced doors usually do leak, and it's one of the reasons why you should always insist on a professional installation. At Giant Glass & Mirror we precision engineer every panel and piece of hardware for your unique bathroom. Made-to-fit glass means you won't have problems in the future.
2. WHAT ARE COMMON PROBLEMS WITH FRAMELESS SHOWER SCREENS?
The only real concern that homeowners have is leaking. As we've addressed, you won't experience leaks when choosing the best frameless glass shower door company in South Florida. There are also cases of low-quality doors shattering when improperly installed. This is another problem that you will avoid when choosing our expert design, fabrication, and installation service. Our tempered glass doors resist damage to provide the safest possible shower door for your home.
3. IS THERE A DIFFERENCE IN COST OF FRAMELESS SHOWER VS. FRAMED?
There is a price premium when upgrading to a frameless glass shower door, but this is offset by the durability and improved aesthetic that you will enjoy. Sure, you could choose a framed door and save a few dollars, but your bathroom won't look as impressive as it would with a frameless option. You'll also have more to worry about in terms of cleaning and maintenance. Over the lifetime of your home, a frameless shower door will easily pay for itself in the convenience it provides. If you ever choose to sell your home, then expertly installed frameless doors could even attract better offers and more interest from the market.
Durability, safety, and convenience. You can enjoy it all when you invest in frameless glass shower doors for your home. Your bathroom will feel brighter and bigger, giving you a noticeable improvement that you will enjoy every single day.
IS GLASS A GOOD CHOICE FOR AN ECO-FRIENDLY HOME?
Homeowners have many demands when remodeling and renovating. For many, environmental impact is now part of the decision-making process. People understand today, more than ever before, that every choice we make has some impact on the environment. The materials you choose in your home could decrease or increase your impact, depending on which way you go.
Glass is popular because it's beautiful and durable. Homeowners are also beginning to appreciate it as an eco-friendly material. Here are some of the reasons why you should insist on glass bathroom upgrades if you want your home to be better for the environment.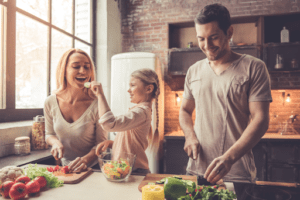 Glass is highly durable. It will last for years or even decades when properly cared for. Giant Glass & Mirror uses an advanced tempering process to ensure that the material resists scratching and breakage. The frameless shower that you install today could potentially last for the lifetime of your home. Compared to some other materials, this can make a big difference. By investing in a long-lasting solution, you will reduce the construction waste that comes from frequent renovations.
Glass is fully recyclable. Even if you decide to replace frameless glass in the future, the material can be melted down and recycled for other purposes. This makes it inherently eco-friendlier than materials like plastic, fiberglass, and composites. Compared to using disposable shower curtains, glass is clearly better for the environment.
Choosing glass frameless shower doors could potentially decrease your need for lighting, which will reduce your overall electrical usage. Glass allows line of sight from wall to wall, so you will use fewer light fixtures in your bathroom. While this might seem like a small advantage, the energy usage of an extra fixture would add up over the years. Every little bit counts.
Glass is an inert material. This means it can't be contaminated from chemicals, fungus, bacteria, etc. If you keep the surface clean, your frameless glass shower door will remain beautiful and free of contaminants indefinitely.
If you demand eco-friendly materials in your home, glass is a material that you should use more of. Giant Glass & Mirror can create custom shower enclosures, doors, and shields for your next remodeling or renovation project.
UPGRADING YOUR BATHROOM
If you are looking to upgrade your bathroom, you will be looking into different shower enclosure options. Above we discussed some of the differences when it comes to framed shower doors and frameless shower doors.
Giant Glass & Mirror specializes in the design, fabrication, and installation of custom frameless glass shower doors. You can reach out to us to learn more about how we can help you with your bathroom remodel or upgrade. At Giant Glass & Mirror, we design each shower door to reflect our client's needs and desires. Reach out to us today.