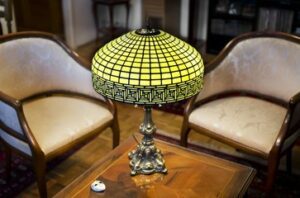 Here at Giant Glass & Mirror, we specialize in making custom glass tabletops. Our team of professionals can design, fabricate, and install a piece of glass to enhance, protect, and breathe new life into your priceless family heirloom. Since our products are entirely customizable, you can rest assured that we will provide a glass product that will exceed your expectations.
If your family has trusted you with an heirloom, someone must care for you a great deal, and have faith that you will appreciate the gift and care for it for years to come. There are many reasons to place a protective covering on an antique. First and foremost, a covering protects the piece form general wear and tear. Coverings keep the item cleaner, dust-free, and ensure that it maintains its original beauty. Some common protective coverings include tablecloths, doilies, table pads, and glass. Read on to learn more about options for antique top protectors and the benefits of choosing glass to protect your family treasures.
OPTIONS TO PROTECT ANTIQUES
It is imperative to prevent daily use from ruining priceless furniture with dents, chips, scratches, and dust. Even the SUN can fade and damage wood products. However, many products on the market today can help preserve the beauty of your furniture.
Tablecloth-This is an inexpensive and easy solution.

PROS-Tablecloths are available in many sizes and a variety of materials. They are usually machine washable.
CONS-They come in limited shapes, square, round, oval, or rectangular and hide the entire piece.

Doily– This is a beautiful option and an excellent way to showcase an additional family heirloom.

PROS-They are unique and often amplify the beauty of the furniture.
CONS-Doilies can cause irregular fading and are typically not large enough to cover the whole piece; they offer little protection.

Table Pad-This is a strong option and provides durable protection to the furniture.

PROS-They are thick, hold up well over time, and offer solid
CONS-They hide the whole piece, are bulky to store when not in use, and can trap moisture from spills underneath.

Glass-This is a beautiful, long-lasting option.

PROS-Glass allows the beauty of the piece you are protecting to shine through; it is cost-effective and easy to maintain.
CONS-It is heavy, and you must take extra care if you move it.
Once you decide what is most important to you, whether it is cost, ease of use, or protecting WHILE enjoying the beauty of your piece, you can choose the right table protector for your heirloom.
WHAT KIND OF FURNITURE CAN GLASS PROTECT?
While there are many products available that will protect your antiques and family heirlooms, there is only ONE that offers durability and elegance at the same time, and that is glass. All other options may protect your piece, but they hide it as well. Why bother displaying something if you have to cover it up anyway? Glass is the right choice if you are looking to protect and enhance any flat surfaced piece of furniture.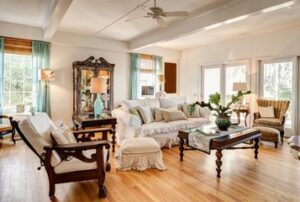 Here are some examples of types of furniture that can benefit from having a protective glass covering.
Coffee Table-These tables endure a lot of wear and tear. You want to display this beautiful piece, but you defiantly need to protect it. A glass top custom cut to size with a safe rounded edge is the perfect way to preserve AND display it.
Desk-Whether you have a large office desk or a small secretary desk, placing glass on the top will show off the grain of the wood while preventing any scratches, dents, or ink stains.
Buffet-This prized antique piece certainly requires special care because of the kind of use it receives. Glass prevents marks that can be caused by heat or moisture.
End Table-This piece might not see much action; however, it can suffer from fading or bleaching if it is near a window. Glass can reflect some sunlight and help slow fading.
Dining Room Table-Your dining room table deserves the most care. If your family has gathered around it for generations, save it for generations to come by covering it with a custom glass tabletop.
One of our glass table tops will protect all of these pieces and more.
Why Glass is the Right Choice for Furniture Top Protection
What makes glass the perfect product to use to protect your furniture? Well, for one, glass is versatile and durable. Additionally, because our professionals at Giant Glass & Mirror custom manufacture every product we sell, we can make just about any size or shape tables with glass tops you may need. Adding to the versatility of size and shape are the options you have when it comes to the edge of the glass. We offer:
Standard Seamed Edge
Beveled Edge
Flat Polished Edge
Ogee Edge-This is a brilliantly polished, rounded edge with a decorative ledge.
Any of these edges will be sure to add to the beauty of your furniture.
There is no need to cover up your family heirloom for the sake of protecting it. You can use your grandmother's dining room table without fear of damaging it once you place a simple yet elegant and effective piece of glass on top. Reach out to Giant Glass & Mirror today to request a free quote on your next project!