Take a moment and think about all of the tables currently in your home. How many do you have? On average, homeowners have about 15 tables of varying sizes and uses. Every table in your home has the simple job of keeping things off the floor and within easy reach. But tables can do much more than that! Do your tables reflect your personal style and contribute to the beauty of your home? Or do they merely keep things off of the ground? Let Giant Glass & Mirror help you combine form and function in any table you need!
Whether it is the all-important kitchen table used for everything from breakfast to homework and visits with friends or a beautiful coffee table in your comfy living room, each table in your home serves an important purpose and can help showcase your style and enhance your décor. Read on to learn how to choose just the right table for your kitchen or living room!

THE MAKINGS OF A GREAT COFFEE TABLE
The living room is a warm gathering place for family and friends. Good lighting, comfortable seating and a place for setting drinks are essential if you want to create a place where people feel welcome. A coffee table of appropriate size and shape can help you accomplish this. My Domaine has some excellent tips for choosing a coffee table.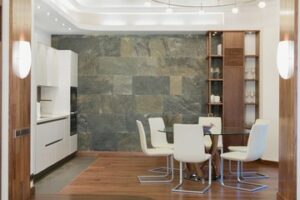 Your coffee table should not be an afterthought of your design concept. It is just as important as the color of the couch and where you put the TV. First, you must decide what the primary function of the table will be. Do you need the table to:
Be sturdy enough to hold trays of snacks and drinks?
Be light enough to be easily moved around?
Have room to store games or pillows and blankets?
Be seamless enough to display collectibles prominently?
Once you determine what you will use your coffee table for, you can pick the material you want it made out of. When it comes to the items you can use for a coffee table; your options are endless. Basically, anything that will fit in your space can sit on a flat surface and has a flat top that can be used as a coffee table. You can upcycle many materials into cool pieces of useful furniture. You can even add a custom cut piece of glass to the top of many interesting flea market finds to create a one-of-a-kind piece!
More traditional options include wood, metal, and glass. Select the perfect material that will suit your needs and your sense of style. Remember, the coffee table is an essential piece in an important room in your home, don't overlook it!
THE TABLE IN THE HEART OF YOUR HOME
The kitchen is the heart of every home, and the kitchen table is probably the most used table in your whole house. Each day starts with coffee and breakfast around the kitchen table and every day ends around it with homework, dinner, or simple conversation. Families make important decisions while sitting at it and news, both good and bad, is shared when gathered together there.
Your kitchen table should reflect your personal taste, match the décor of your home, be durable, large enough for your needs, and last for ages. Here are things to consider while shopping for a kitchen table.
Will this be your only place for meals? Meaning you do not have a formal dining room.
How big is your family? How many people will be gathered regularly?
Will this also be a place for homework, bills, etc.?

An article published at The Old Ways discusses the historical and modern importance of the ever-present kitchen table. It is used for so much more than sharing food together which is why it remains such an important piece of furniture in your home and why you must take care when choosing it.
Unlike the coffee table, which has a more extensive list of materials you can choose from, the kitchen table is typically going to be wood, metal, or glass topped. Homeowners often select wooden tables for their traditional appearance and sturdiness; however, a glass topped table should not be ruled out. Tempered glass is very durable, safe, and easy to care for, and a glass topped table can make a small room feel larger while bringing a modern feel to the space.