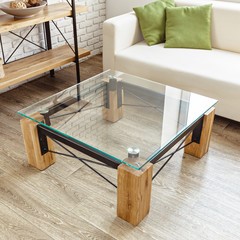 Nothing adds style and sophistication to your home like decorating with glass furniture. Glass is beautiful, easy to care for, and durable. If you are considering upgrading the end tables and coffee table in your living room, the dated table in your entryway, or even your dining room table, start at Giant Glass & Mirror. Our professionals will help you design the perfect glass topped table for any space in your home!
Glass tables are customizable and versatile in any space you choose, making them a perfect choice when you decide to redecorate! However, there are a few design tips you can follow when selecting a glass piece or pieces for your home. Read on to learn more about how designers use glass differently around the country, how to pick a glass table for your home, and why glass is an excellent option for any homeowner.
REGIONAL USE OF GLASS IN HOME DECORATING
Home décor style has always been somewhat regional. Most are familiar with the soft colors and geometrical shapes of the South West, the East Coast is known for marine flair, while the Mid-West loves farmhouse chic.
When it comes to glass, decorators in the South West use glass to keep things "cool," while East Coasters use it in a nautical way, and Mid Westerners love protecting family heirlooms with a great piece of glass. All of these are perfect reasons to use glass and demonstrate its versatility.  Glass tables can work in any region of the country, and any area of your home as well!
While it is okay to follow style trends and regional tastes, it is important to avoid falling into the trap of "cliché decorating"! Unfortunately, this is all too common in Florida. "Cliché Florida" style is characterized by taking all of the things that are popular in Florida like the beach, the ocean, the tropical plants, and smashing them all together all over your home.
Check out this article over at Florida Design for examples on using all the elements you enjoy to tastefully achieve a glamorous look and avoid decorating your home like a rental house for snowbirds.
Choosing the Perfect Glass Table
Choosing the right glass table is all about knowing your options! Again, glass is versatile. There are many different types of glass table tops available. When you work with our professional team at Giant Glass & Mirror, you have options for strength and thickness as well as color, edges, shape, and size.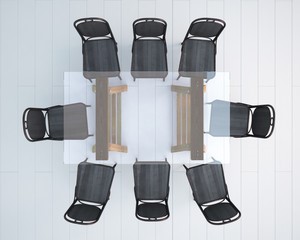 Standard glass is a good choice if you are using it protect a solid piece
Tempered glass is best for free-standing tables
Thicknesses range between 1/8″ and ¾."
Available tinted colors include: clear, frosted, blue, gray, green, and bronze
Choose from seamed, beveled or flat and polished edges
Shape and size are limited only by your imagination
If you are frustrated by the quality and look of tables you are finding in the stores, consider talking to one of our glass specialists and design your own! Nothing can personalize a space in your home the way a custom made piece of furniture can.
Why Choose a Glass Topped Table?
Many factors make glass an excellent choice for any room in your home. The beauty of decorating with glass is that it looks good everywhere! Glass is a classic design element that is timeless and never goes out of style. Additionally, glass holds its original beauty and won't fade or discolor over time, and few other materials are as customizable as glass. You can use glass in any room of your home, regardless of the current décor you already have. Seamlessly blend a glass table into your already well-appointed dining room or add a glass-topped coffee table that flows right alongside your existing style.  If you are still unsure about the right coffee table for your space, take a look at these ten tips for finding the perfect one from HGTV.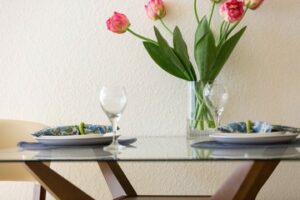 Freestanding glass tables are a good option for homeowners that like a sleek and glamorous look. Glass provides a contemporary feel when placed on a brass base or keep with the tropical theme and pick a glass table with a rattan base. If you are concerned about glass being too 'cold,' consider placing a large, cozy rug underneath to warm the space up. Decorating is all about balance, and balancing color, texture, and materials is easier when you decorate with glass!
Here at Giant Glass & Mirror, we are a full-service glass company which means that we design, fabricate, and install all of the products that we sell. We are a family company that has been serving Dania Beach, Miami, Fort Lauderdale, and all of South Florida for over 20 years. We back our work with a 100% satisfaction guarantee and pride ourselves on our timely and professional service. We offer FREE QUOTES so reach out to us today and see what we can create for you!