If you have decided to add a frameless shower door to your bathroom, you understand the added style and functionality that it can give you. However, after making this decision, you may not be sure where to begin.
How do you plan and prepare for the installation of a frameless shower door? There are numerous factors to consider when adding a frameless shower door to your home. Learn more about these elements and the steps you should take to plan for your frameless shower door below.
CUSTOMIZE YOUR FRAMELESS SHOWER DOOR TO FIT YOUR PERSONAL STYLE
First things first, before you buy a frameless shower door, you need to establish what you want from your shower door and how you want it to function in the space.  Things like glass thickness and type as well as the hardware you want on the door should all play a role in your final decision. Check out our list below to be sure you are considering all the different options before you buy a frameless shower door.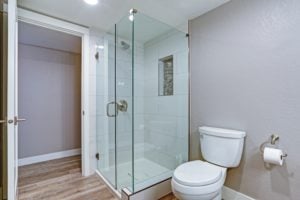 Bathroom Area – How much space does your bathroom have? The area in your bathroom is an essential factor to consider when you are planning for a frameless shower door. Unless you plan on renovating the room, you must choose a door that fits in the space you have.
Shower Door Type – There are a few different options when it comes to choosing a frameless shower door. You want to be sure to select a door that matches your style and personality, but you also want to be sure the door will function correctly in your bathroom. For example, a frameless pivot shower door can swing in or out, while a hinged shower door can only swing one way. Take into consideration what type of shower door will work best for you before you order one.
Glass Thickness and Style – Next, you want to consider the glass itself. How thick do you want the glass to be? What type or style of glass do you want? For a frameless shower door, the minimum glass thickness is 3/8 of an inch which ensures the door will be sturdy and stable. However, you can increase the glass thickness all the way up to 1/2 an inch if you want a premium thickness. Another preference you need to think about is the style of glass you want for your frameless shower door. You might decide to go with standard clear glass, or you could choose to use frosted glass for more privacy.
Hardware Type – Finally, you must make a decision about the type of hardware you want for your frameless shower door. Do you want custom handles and a towel bar? Are you looking for hooks or knobs? Think about what type of hardware you like, and also which finish will match your décor. You can choose from finishes like brushed nickel, brass, gold, oil rubbed bronze, chrome, and more.
IT'S ALL ABOUT THE NUMBERS: MEASURING FOR YOUR FRAMELESS GLASS SHOWER DOOR
Now that you have settled on all the different elements for your frameless shower door, you can finally get ready to order it. However, to order your shower door, you need the measurements for your space. Grab a tape measure and check out our tips for accurately measuring for your frameless shower door.
Measure Shower Height – The first step in measuring for your frameless shower door is to measure the shower height. Be sure you measure the height on both sides in case there is a difference from one side to the other.
Measure Shower Width – Next, measure the width of the shower enclosure. Again, take this measurement in two places to account for any differences. We recommend, measuring the width of the top half of the shower and the bottom half.
Check to See If Your Shower is Level – After you have measured the height and width, grab a level and check the shower walls and floor to see if the surface is level.
Measure Angles – Finally, you will need to measure any angles. This only applies to you if you are putting up more than one wall for your enclosure. If you are only installing one wall, you can skip this step.
While you can complete all of these measurements yourself, if you are having any trouble picking out a shower door or measuring your space, you can consult our experts at Giant Glass & Mirror.
At Giant Glass & Mirror, we want to help you create a shower oasis with a custom glass shower door. We pride ourselves on our excellent customer service and will work with you until you are satisfied with the final product. Reach out to us if we can help you customize your frameless shower door today.