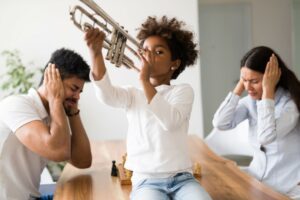 Home décor trends change all the time, with each new year and season bringing a fresh perspective. The interior design trends here to stay in 2019 involve more organic shapes and natural materials, jewel tones, textures, earthy vibes, and deep couch cushions. Another trend that has been on the rise is the use of wall partitions. The popularity of open floor plans makes it easier for homeowners to feel like their home is bright and airy. However, open floor plans also present the problem of less privacy. When everyone can see and hear everything that's going on around the house in an open layout, it takes away from the coziness of being in a small space or a private area and creates substantial noise. That's where wall partitions or room dividers come in.
BENEFITS OF WALL PARTITIONS
Partition walls are both functional, beautiful, and a great way to break up any room without changing the structure of your home. You can also find wall partitions made out of any type of material and countless designs. It's a fun way to add personality to a space while creating more privacy. Keep the open feel of your home while adding the coziness of a smaller area, with tempered glass walls. Transparent, durable, safe, and sound blocking, you can design glass partition walls to fit your home's style, no matter what it is.
GLASS PARTITION WALLS FOR YOUR HOME
Glass partitions are popping up in new homes everywhere. You can design them in a way to allow more light into your home, create smaller spaces, or connect with the outdoors. Consider putting a glass partition wall between your kitchen and dining room to make your dining room feel extra special. Or, place glass partition walls in the middle of your home to create a playroom or homework area, where you can keep an eye on the kids without feeling like you can't hear yourself think. For a luxury feel, use glass walls around your indoor pool or hot tub, or for your walk-in closet. Customize your glass partition wall design at Giant Glass & Mirror, by choosing the glass thickness, detail, shape, size, and more. No matter what you have in mind, our team of experts can make your vision come to life and install it in your home.
 GLASS PARTITION WALLS FOR THE OFFICE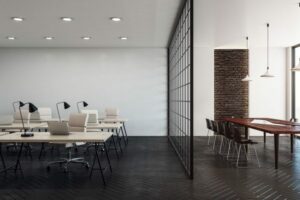 Glass office partitions are also becoming more and more popular in 2019. The advantages of using glass in commercial buildings go beyond creating a professional and open atmosphere. Even a glass partition that goes halfway up the length of the wall can significantly reduce noise in areas where people need to focus. They also allow more natural light into the building which promotes productivity, and they'll encourage more collaboration among employees since no one is completely closed off from anyone else. Learning how to implement glass partition walls in commercial spaces will increase the value of your workplace. Consider opening up your office space and replacing regular doors with a beautiful, clean, modern-looking glass partition wall.