If you like the idea of adding functional and decorative glass shelves to your home but aren't sure exactly where to put them, you've come to the right place. While you can put glass shelves pretty much anywhere in your home, they work particularly well in certain spaces. Read on to learn about the benefits of glass shelves and the best places to add glass shelving in your home.
THE BENEFITS OF GLASS SHELVES IN YOUR SPACE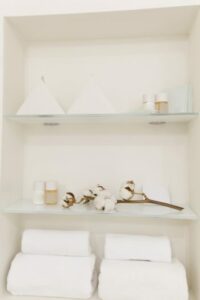 Glass shelves offer a lot of great benefits. Not only do they give you added storage space, but they also provide a unique, decorative space. Many people use glass shelves for their visual appeal. The reflective nature of glass shelves can enhance the items or objects that you are displaying. Another reason to use glass shelves is that these shelves are lighter and brighter than a wooden alternative, making them perfect for dark corners. Glass shelves effortlessly add decorative and practical elegance to your home.
Additionally,  their capacity to be fully customizable means that you can get a glass shelf made to your exact specifications so that it fits perfectly in your space. For example, if you are looking for added storage options, but don't have a lot of available wall space, you can have corner glass shelves made. The corner shelves will give you added storage, without taking up too much of your limited wall space.
THE OPTIONS ARE ENDLESS: PERFECT PLACES TO ADD GLASS SHELVING IN YOUR HOME
Now, let's talk about some of the best places to add glass shelves in your home. It is important to remember that you can put these shelves wherever you need them. However, some areas are simply perfect for glass shelving.
Places Where You Need More Storage – Do you desperately need more storage space somewhere in your home? Glass shelves are a fantastic way to add stylish storage. If you are looking to add shelving in a living area like a family room or dining room, glass shelves can give you added space without sacrificing style and beauty.
Corners or Dark Spaces – Glass shelves work great in dark spaces. Wooden shelves disappear into dark places and make a room feel darker and smaller. On the other hand, the transparent nature of glass shelves lightens and brightens the space, making it feel larger.
Bathrooms – Bathrooms often lack storage space. If you feel that your bathroom doesn't have enough storage, glass shelves could be an excellent option for you. Glass shelves are entirely customizable, allowing them to fit in even the smallest spaces in your bathroom. They also provide a clean and modern look.
Kitchens – If you are looking for a sleek and modern addition to your kitchen, glass shelves are an excellent choice. Glass shelves in the kitchen are both stylish and functional, when you use them to display dishes or other items. Glass shelves can also replace upper kitchen cabinets, which can make your kitchen look and feel more spacious.
Places Where You Display Important Possessions – Another great way to use glass shelves is to display memorabilia or prized possessions. Glass shelves are particularly suitable for this job because they can make your items stand out. Because glass is transparent, these shelves allow light to pass through, and the reflective quality emphasizes the items being displayed. If you have favorite items or souvenirs, you can show them off in a place of honor on glass shelves.
As you can see, there are a lot of excellent places to install glass shelves in your home, but ultimately it is up to you to decide where they fit best. If you want to take advantage of all the wonderful benefits of glass shelves, you can reach out to Giant Glass & Mirror.
We specialize in the design, fabrication, and installation of glass products such as glass shelves. Additionally, we create custom frameless shower doors, glass bathtub enclosures, tabletops, mirrors, and more.
If you are interested in adding custom glass shelving to your home, you can reach out to Giant Glass & Mirror today. We can help you come up with the right design for your glass shelves as well as find the size you need.  Click here to learn more about what Giant Glass & Mirror can do for you when it comes to customizing glass shelves.