Having a well-designed bathroom with a cohesive style is easy to do in any home without breaking the bank. As you make changes to the bathroom and evaluate which upgrades are worth making, remember to consider adding a frameless tub enclosure for both style and function. Pieces that add resale value to the home, like frameless tub enclosures, are worth considering for inclusion in any bathroom. No matter how you have decorated your bathroom, it's easy to make a bathtub door fit into your style, and the process of adding one to your home is easy.
There are several kinds of shower doors perfect for any situation, including:
A hinged shower door that swings open and closed
A trackless door that will open and close smoothly while you have it
A pivot tub door for maximum room and space to move around
These options make it easy to choose a shower door that fits your style. Here are some tips for integrating a bathtub door into any design style from the experts at Giant Glass and Mirror:
European or Minimalist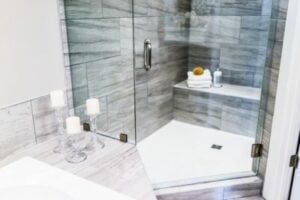 If you want to create a clean, bright oasis where you can start the day with a calm, peaceful feeling, a minimalist bathroom might be perfect for you. Simple lines and classic neutral colors are the hallmarks of the minimalist style. Natural style lighting and large mirrors help space feel large and open. Banish countertop clutter into drawers or closets to keep the space free of distractions and mess. You can incorporate simple silk plants or fresh greenery to bring a natural touch into space or use natural wood accents to soften the look of the bathroom.
Tropical or Caribbean Inspired
Bring a little slice of sunshine to your home with a bathroom inspired by the classic style of the Caribbean. Dark woods and clean white linens will help you set a classic Colonial style, seen in fine homes all over the islands. Use a bright wall color and tropically inspired accents to pull the look together, like:
Hibiscus flowers and banana leaves
Palm fronds and pineapples
Jute Twine
Wicker baskets and window shutters
Farmhouse Chic
Easy, clean and comfortable, a farmhouse-inspired bathroom uses rustic accents and simple finishes. Add antique-inspired features, like an oversized tub, to make the space more sophisticated. Shiplap, made ultra-popular by Chip and Joanna Gaines of HGTV fame, is a perfect way to add a farmhouse finish to one or multiple bathroom walls. These wood-style planks are available in many finishes and can be added to a bathroom as a do it yourself project over a weekend.
Ornate or Over the Top
Create a bathroom fit for a king or queen in your home by using upgraded textiles and advanced features, like a high-quality rainfall showerhead, heated flooring and built-in waterproof speakers. Rich paint colors, like plum or scarlet, can help create a regal atmosphere. If your style is over the top, you can choose an opaque or reflective finished glass to add a fancy touch to your bathroom. Oversized metallic hinges in gold, silver or copper can add a touch of class to the look of the shower and match the fixtures you choose to go inside.
Spa Style
Having a beautiful, well-appointed bathroom that transports you to a tranquil, serene place is a top desire for many homeowners. Consider the hallmarks of the spas you've visited in the past as you try to recreate the style and feel at home. Most spas use light colors and fine textiles to create a clean, luxurious feeling. Frameless tub enclosures help to create this feeling by allowing light to filter through every part of the bathroom. Combine this feature with a shower seat to make it ultra-convenient for elderly visitors or those with limited mobility and give the bathroom a luxurious look.