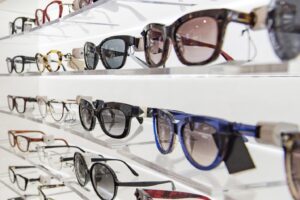 In the retail world, perception is reality. The better you can present your products to your market, the more likely you will be to close sales and drive repeat business.
Within your store or showroom, presentation should be a primary focus. When you aren't getting the right first impression across, your customers will simply head to the competition, no matter how great your products or customer service skills are.
With this in mind, it makes sense that you should focus on display installations whenever you have a budget for improvement. Glass shelves from Giant Glass & Mirror are the perfect solution for your business display needs.
Learn the advantages of custom tempered glass shelves and why visual merchandising is so important today.
Visual Merchandising is Key in the Retail Industry
Whether you sell video game consoles or designer sunglasses, the retail experience is always a visual one. Stores are facing more retail challenges, and one of the biggest problems facing brick-and-mortar stores is increased competition from eCommerce sites like Amazon, so you need to be proactive in gaining any competitive advantage.
Many businesses have taken to an omnichannel approach, including an eCommerce element in their sales model. While this will help to take back some of the business that has moved online, it's still not quite enough to remain competitive.
Many shoppers still prefer local stores for the improved experience. Real staff, the ability to see and feel products, and an instant transaction are all compelling. Of course, these shoppers will resort to online sales if you can't provide the right in-store experience. The way you display your products is crucial to your success.
There are three important elements that make glass shelves so essential in visual merchandising and the purchasing decision:
Reach is significantly improved. A product on a store shelf is within physical reach of any customer that enters your door. They will be able to see products firsthand, helping them to make a purchasing decision. There's a reason that big box and boutique stores are still thriving in many cities – it's the personal experience with physical products that can be seen and felt.
Impulse buying becomes a factor. High quality, attractive glass shelves can facilitate impulse buying or simply bridge the gap between desire and purchase. You may have engaged with your market on social media or other online platforms. Now a customer is standing in your store with the intent to buy. Seeing a product on the shelf is the final step. Having an attractive display will be the critical element that compels the shopper.
It's the final opportunity to make the sale. All the effort that goes into networking and marketing is worthless until you complete a transaction. Just as a physical shelf is the last step for a customer, it's also your last chance to make a conversion. Why leave the opportunity in the air with unattractive metal or even plastic shelves that don't create that much-needed final push?
Sales executives understand the important role of retail displays in visual merchandising. Take a page from the strategy book of the most successful business owners by upgrading with custom tempered glass shelves today.
The Practical Benefits of Glass Shelves for Retail
We've touched on some of the psychology of visual merchandising and purchasing decisions; however, there are also practical benefits that come from investing in glass shelves from Giant Glass & Mirror.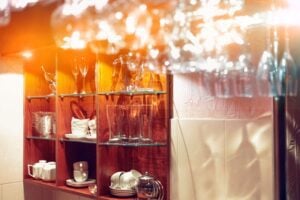 Floating glass shelves have a minimal footprint, bringing the focus to products on display. Your retail space will look cleaner and more attractive.
Custom tempered glass shelves are durable. They resist scratching and damage from impacts. An investment in glass display shelves today will continue to pay off for years or decades to come. They'll never look dated or worn when properly cared for.
Glass shelves are versatile, due to their strength and extensive customization options. You can display electronics, books and digital media cases, food products, liquor, or anything that you sell. Glass shelves are suitable for anything but the largest and heaviest items. They work particularly well for high end, high price, and boutique products.
Because glass shelves are transparent, they allow more light through to products underneath. This can increase the sense of space and reduce your display-lighting needs.
You can mount shelves to walls or directly within display cabinets.
With so many practical benefits and improvements in visual merchandising, there's no good reason not to consider glass shelves for your store upgrade.
Work with an Industry Leader and Get the Best Glass Shelves for Retail
To get the most out of your investment in glass shelves, you need to work with a company that can deliver industry-leading products that are made to last.
At Giant Glass & Mirror, we can help you reach your full potential with custom glass shelves for retail. We have over 20 years of experience in the industry and offer extensive options in size, thickness, and material design.
Enjoy the benefits of improved visual merchandising. Talk to our team today to design your commercial glass shelves in South Florida.